Messages

4,009
Points

5,565
That'd actually make a lot of sense, Arkham was known to dabble in sorcery so why couldn't his grandson do the same.
What makes you think V is Arkham's grandson? He looks nothing like Arkham, Lady, or even Dante. He doesn't have Arkham and Lady's eyes or Dante's hair and blue eyes like Nero has his father's.
@Innsmouth

I agree. Apparently classic dmc is easily distracted and not good at following through on its ideas.

@DarkSlayerVergil

Another user

@Morgan

argued that Lady should have those powers by virtue of growing up in his house.

@Lain

I feel like DmC should have done more with the witchcraft-demon connection. Its more of a Western trope than eastern.

Patty would've benefited from being more of a witch. She has a heritage she doesn't understand nor powers she can control. That would give Dante extra incentive to keep her around and speak to his own history.

Kyrie might have benefited from being a witch as it would give her more to do, set up Fortuna's culture, you could have her be rivals with Patty, and even give her a face heel turn down the road. She could be seduced by power like Willow in Buffy season 6.

So much they could do....
We already had a sorcerer in DMC2 remember this guy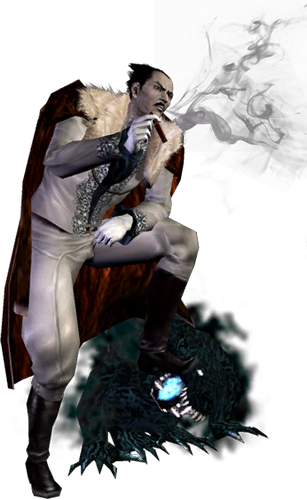 Yeah I guess Arkham counts too.
Yeah that makes sense for Lady. Learn the same demonic arts that corrupted her dad and caused him to murder his wife/her mom and ruin her life. Yeah let's not forget she hates all demons and wants to kill them all for corrupting her father. Lets ignore her development to become a strong human through intense physical training, mastery of acrobatics, and becoming proficient in firearms (human made weapons via human ingenuity) and trying to prove Dante's (and this series) point of human heart and determination is capable of overcoming demonic power.
Fortuna is a religious society that hunts demons (otherwise Nero wouldn't hide his demonic arm) and Kyrie lost her parents to demons why would she engage in demonic arts and witchcraft. Rivalry between Patty and Kyrie? I can understand making Kyrie more relevant but do we need to drag anime characters into this....well I guess DMC5 did with Morrison.
This series is called Devil May Cry not Witch May Cry. Its focus was on demons and not witches. We have Bayonetta for that.
There are magic users and sorcerers and witches in this series and we have V who falls in that category as a full playable character so its unfair to say DMC drops its themes and ideas or gets easily distracted (especially when the series never revolved human magic users but on the duality of humans and demons. Why is it that the humans who sells their souls for witchcraft like Arius and Arkham usually end up being the villains). Gets distracted by what its own themes and ideas.
Also witches isn't a Western concept. Shamans and all sorts of mysticism is very prevalent in Eastern and Asian cultures as well.
https://en.wikipedia.org/wiki/Shamanism