Dark Slayer/Vregil/Nelo Angelo
Update: Apparently Alexander was partner with @Vergilsbooty is the former WhoopingSpider they work together so credit to both.
Hi guys again with new skin not new this skin orginally by Alexander I only recreated because it is go down with dmcmods.com and the skin is gone for good so I try my best to recreate this legendary skin with my hands using Krier's mod.
-Note: I not make no money out this mods or own them I just tweak the game.

Game Copyright Belong To: Capcom & Ninja Theory

Mod Theme Copyright: Capcom & Ninja Theory

Mod Game based on: DMC 3 SE
here is the change list:
-use
Krier
's mod for base
-use
Kirer
3D map for improving the mod
+I some how manage to recolor armband to match color of outfit
-fix color pixels on collar
-used
Alex
's yamato for mod
+added teleportation effect
+the last update is fingerless gloves this one my editor can't do it I need a pro editor if any one interest PM me.
I add 2 classic DMC 3 HUD exclusive with mod for main game (DmC) for Dante and Vergil's Downfall for Vergil.
PS: if want use this mod on Vergil's Downfall you must use (Per-Stab Vergil) one more thing read my note file first and If there is a mistake, I have a backup of it in the google drive.
Screenshots:

Dante DMC 3 HUD with orginal colors

Vergil DMC 3 HUD with orginal colors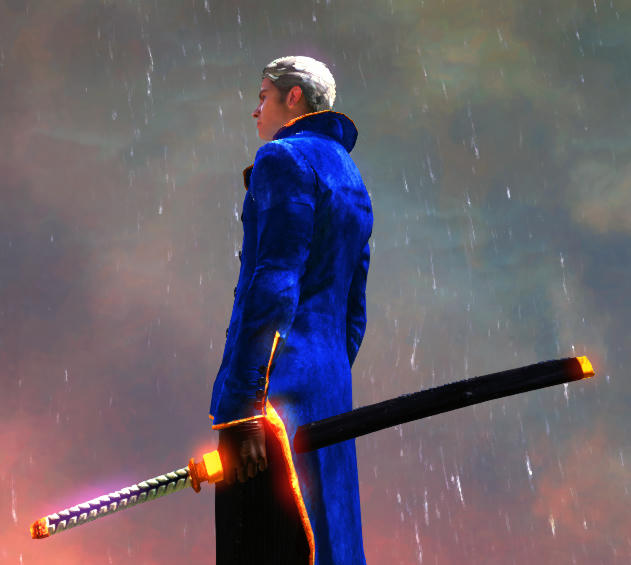 Yamato DMC 3
Alex's Vergil DMC 3
Download Link
Download Link For Per-Stab Vergil
don't forget to check my office for more mods you can find there and as always request is accepted in my office.
Last edited: